"Hospitality is at home here"
Hospitality, tradition and excellence await you at Romantik Hotel Gebhards in Göttingen, Lower Saxony. As the oldest hotel in the city, the 4-star superior house, founded in 1854, is one of the most renowned in the area. Run by the Albes family for more than 65 years, it has hosted numerous celebrities. Among them are celebrities such as Nobel Prize winner Albert Einstein and former German presidents.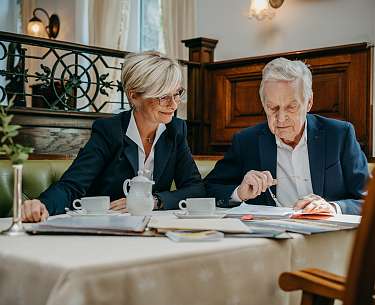 Your hosts
Hostess Mrs. Ehlert as well as the entire Albes family strive with unobtrusive attention to create a warm home for you - and have done so for over 65 years. Family-owned since 1954, the Romantik Hotel Gebhards has been run with passion, commitment and expertise by the third generation. The personal service creates a place of comfort that guests such as Otto Hahn and King George V once appreciated.
Our facilities
at Romantik Hotel Gebhards
Central Location
Electric Car Charging Station
Free Wifi
Lift
Meeting Facilities
Parking Area
Parking Garage
Pets Friendly
Quiet Location
Sauna
Terrace
Wheelchair Friendly
Feast in an art nouveau ambience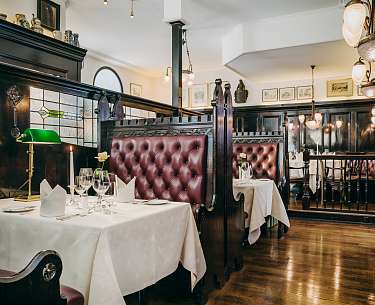 Georgia Augusta-Stuben
In the Georgia Augusta-Stuben, guests can indulge their palates in a noble art nouveau ambience. The cuisine at Hotel Gebhard is creative, light and full of flavour. The changing menu offers both traditional classics and the hotel's own creations. The menu is based on the fresh and seasonal produce available at Göttingen's weekly market. Whether a multi-course menu or a snack for in between - a visit to the Georgia Augusta-Stuben is always a successful break from everyday life.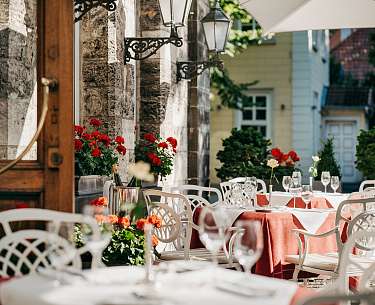 Our terrace
Our beautiful terrace also invites you to enjoy and linger. Delicious dishes and refreshing drinks can be consumed in both a cosy and upscale open-air ambience. Within the summer months or under the evening sky, the unique terrace atmosphere is especially recommended.
End of the evening in our bar
You can enjoy a selection of excellent drinks such as long drinks, cocktails or spirits in our hotel bar. With a good glass of wine, the evening can end comfortably in a stylish ambience and there is enough time to sit back and relax - or to strike up a conversation with familiar or new faces. Arrange your stay in our tasteful bar according to your individual needs and enjoy your little time-out from everyday life.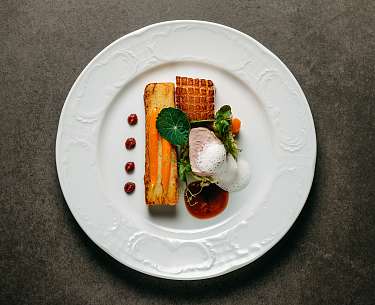 Simply enjoy!
At Romantik Hotel Gebhards, we place particular emphasis on culinary delights and enjoyment. As hosts, we follow a high standard for the quality of our food, which is reflected not only in the outward appearance, but above all in the excellent taste of the dishes. Classics of northern German cuisine meet seasonal delicacies on our varied menu, which are always prepared freshly, regionally and sustainably by our selected chefs. Taste for yourself!
In order to be able to spoil all our restaurant guests, we ask you to make a reservation in good time. We are happy to accept table reservations by telephone on +49 (0)551 49680. We look forward to your visit to our Georgia-Augusta-Stuben!
Opening hours Georgia-Augusta-Stuben:
Monday: closed - meetings or events on request
Tuesday to Friday: from 4:00 p.m.
Saturday and Sunday: 12:00 a.m. - 2:30 p.m. and from 5:00 p.m.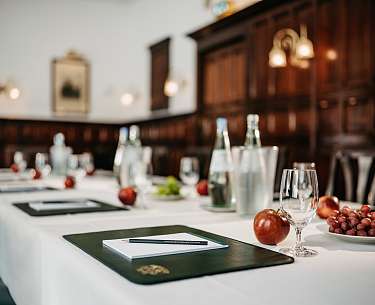 Meetings
Are you looking for a stylish setting for conferences and seminars? Our four rooms - the Heuss Room, the Georgia Augusta Room, the Gentlemen's Room and the Estates Room (air-conditioned) - offer a suitable setting for every occasion. In addition to the usual technical conference equipment, all meeting rooms have daylight as well as microphones and loudspeakers and can be equipped with different seating arrangements as required. Some of the rooms are air-conditioned and their magical ambience lends them a very special flair.
Guests and business people who wish to stay overnight will feel completely at home in one of the 50 rooms, which are individually furnished with great attention to detail. Located in the heart of Germany, Göttingen is very easy to reach by train as well as by car, and the hotel also impresses within the city with its equally central and attractive location between the main railway station and the historic city centre. The Gebhards - a hotel with ICE connection.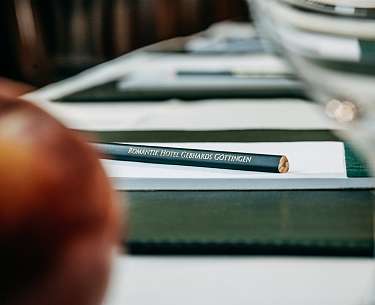 Meeting rooms
Our meeting rooms:
Heuss room (3.80 m room height): 28 m² for up to 12 people
Georgia Augusta-Stübchen (3.90 m room height): 34 m² for max. 22 to 35 persons (depending on type of seating)
Herrenzimmer (3.90 m room height): 72 m² for max. 28 to 60 persons (depending on type of seating), air-conditioned
Stände room (3.90 m room height): 105 m² for max. 36 to 95 persons (depending on type of seating), air-conditioned
We would be pleased to inform you about our conference offers and to put together an individual offer for you according to your wishes.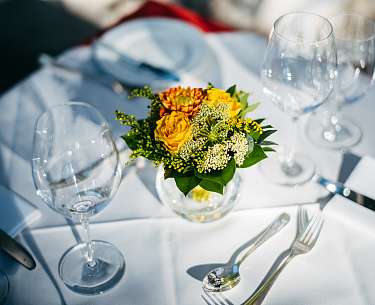 Events
Would you like to celebrate your wedding, a christening or a milestone birthday in a very special ambience? As a four-star superior hotel, Romantikhotel Gebhards offers you exclusive rooms for private celebrations and a comprehensive, professional service as well as first-class catering with culinary specialities from the Georgia Augusta-Stuben. We would be happy to plan your private celebration with you and put together an individual offer for you.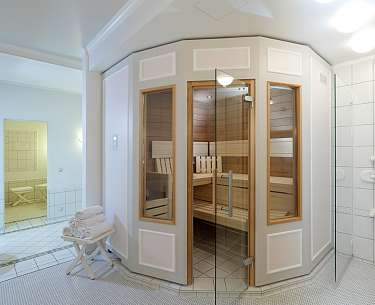 Sauna
You can enjoy a soothing time-out during your stay in our small, well-kept wellness area. Relax in our sauna or simply put your feet up on our loungers. Leave the hustle and bustle and stress of everyday life behind and experience a time-out for all your senses.
Note: Please note that our sauna and whirlpool are currently closed.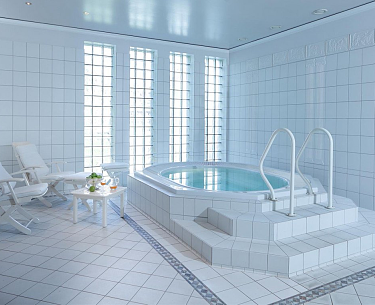 Time out
Surrounded by minimalist elements of Art Nouveau architecture, you can both start the day relaxing and end the evening blissfully in our in-house whirlpool. Enjoy the warm water in the white-tiled pool alone or as a couple and let the neat, monochrome space take its effect on you. While bathing in our wellness area, you can recharge your batteries and simply switch off.
If the weather is bad, we recommend a day of relaxation in the Eisweise bathing paradise or a brine bath in the bathhouse of Europe's only surviving pan saltworks.
Note: Please note that our sauna and whirlpool are currently closed.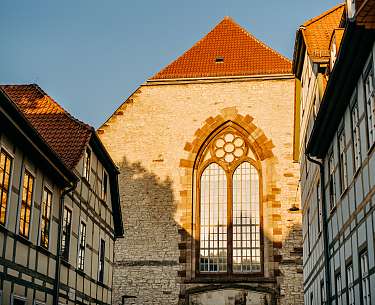 Discover Göttingen
Göttingen's old town charmingly combines the memories of the medieval merchant town (Hanseatic League) and the flair of a modern university town. You can explore numerous sights on a walk through the city centre. From the famous Gänseliesel at the old town hall, to the Vierkirchenblick, to a multitude of sculptures and historic buildings, many of which housed famous personalities and Nobel Prize winners in the past. The world capital of mathematics until 1933, the foundations for Einstein's theory of relativity were laid here.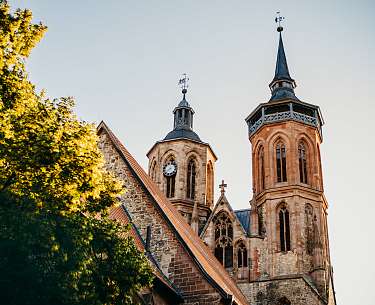 Sights in Göttingen
Göttingen's old town charmingly combines the memories of the medieval merchant town (Hanseatic League) and the flair of a modern university town. You can explore numerous sights on a walk through the city center. Not only the Old Market Square with its Gänseliesel characterizes the beautiful cityscape of Göttingen. Historical buildings such as St. John's Church, the old town hall, the German Theater or the Auditorium Maximum can be visited on a walk or on one of the exciting, themed city tours. Film enthusiasts can also follow in Heinz Erhardt's footsteps in Göttingen. Many of his films were shot in the tranquil little town. The popular opening scene from the 1959 film Naturally the Motorists, for example, shows the Weender Tor, an important junction in the Lower Saxony town. In honor of the versatile German artist, a Heinz Erhardt monument was even erected near the city center, which can be visited. Monuments and sculptures can be found throughout Göttingen, as well as the so-called Nobel Rondell in the old city cemetery. A joint memorial commemorates eight important Nobel Prize winners who were once buried in the city.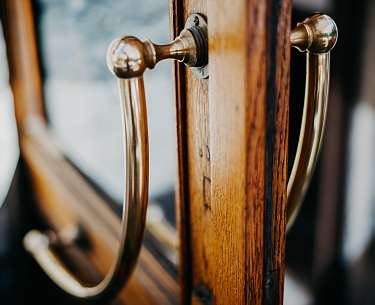 Experience tradition
Traditions and community are writ large in Göttingen - also known as Chöttingen in the local dialect. Every year, its residents and curious travelers alike look forward to the delicious, hearty bacon cakes prepared in local bakeries on the first Monday after Michaelmas, just in time for the start of autumn. The occasion is the traditional Guild Day, which also commemorates the former medieval guild elections at an event in the Old Town Hall.
Among Göttingen students, too, a popular tradition has prevailed to this day: After graduating from Georg August University, freshly minted doctoral students climb the market fountain in front of the historic town hall. The original old custom involves presenting the historic Gänseliesel figure with a bouquet of flowers and then kissing the stone girl. Today, the Gänseliesel is Göttingen's most important landmark - and also probably the most kissed girl in the world.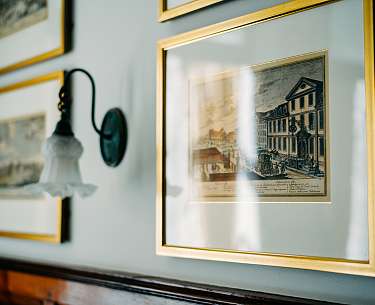 Culture
As a lover of culture, you will be pleased with the distinct cultural life in Göttingen. Three theatres, a symphony orchestra, several museums and exhibitions are just as much a part of it as annual events. Experience the Göttingen Summer of Culture with cabaret, literature and music in the Old Town Hall or the German Theatre and visit an open air festival in August on the Waldbühne in Kaiser-Wilhelm Park. When the days get shorter you can look forward to the Göttingen Literature Autumn or visit international greats at the Göttingen Jazz Festival.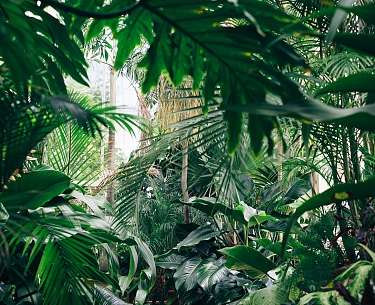 Botanical garden
Anyone who wants a little time out should explore the Old Botanical Garden at Göttingen University. Once a year, the titanwort, a rare plant from Indonesian Sumatra, blooms in the well-kept green space. The unusual bloom attracts numerous visitors and can be admired here from a very short distance.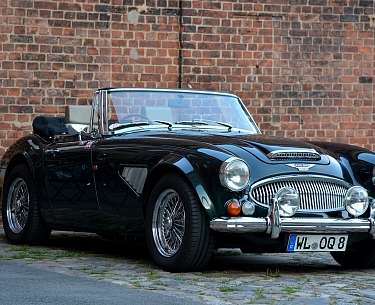 Oldtimer
Classic car enthusiasts are in good hands in Göttingen, as the Harz Mountains and its beautiful landscapes are perfect for extensive classic car tours with a fresh breeze and charming stopovers. Only about 39 km from Romantik Hotel Gebhards, you will also find the PS.Speicher, Europe's largest classic car museum. Numerous fascinating exhibits, a classic car simulator and a family and holiday programme invite you to discover them together and convey an authentic picture of mobility, technology and history.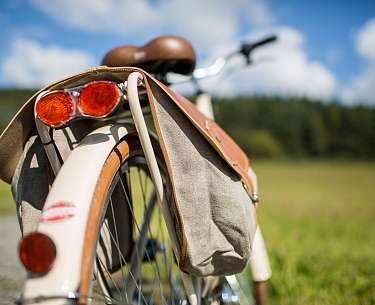 Cycling
Those who prefer a more sporty approach can get active on a bicycle tour. On a guided bike tour through Göttingen you will learn about the city's history and present. From Göttingen you can head south on the Leineradweg, for example, to the Friedland Museum, which illuminates the history of the widely known border transit camp from 1945 to the present day in the historic railway station of the village of Friedland. Just a short distance further, you will reach the idyllic Besenhausen manor with its café.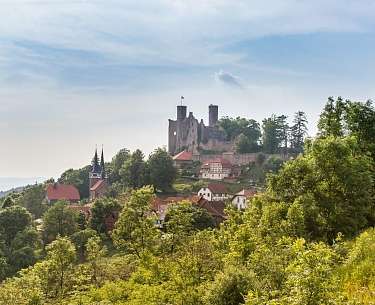 Hiking
Walkers and hikers also get their money's worth in the rose garden, in the green space of the old city wall or in the city forest on the Hainberg. For an excellent panoramic view, climb the Bismarck Tower, the highest point in the city area (323 m above sea level). On clear days you can see as far as the Harz Mountains from here. The Kiessee lake in the south offers boat hire, sailing and paddling clubs and numerous circular hiking trails. In winter you can ice skate on the frozen lake.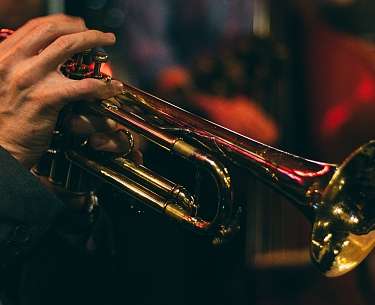 The 46th Göttingen Jazz Festival
The 46th Göttingen Jazz Festival will take place from 03 - 12 November 2023, presenting a particularly extensive programme in various venues such as the Old Town Hall or the German Theatre for the first time in several years. From classical jazz to folk and world music to improvisational art and electronic music, the festival, which is appreciated by connoisseurs, covers a wide variety of genres. Let the extravagant sounds of the concerts wash over you, and feel free to visit us during your stay at our nearby Romantik Hotel Göttingen to relax and recharge your batteries after the shows.
International Handel Festival
Handel Festival in Göttingen
The Göttingen International Handel Festival 2023 from 18 - 29 May is dedicated this year to the theme of Greece. Under the motto Hellas! the team around artistic director George Petrou has put together a finely selected programme that presents the work of the famous artist George Frideric Handel to a broad audience within the framework of various formats. In addition, this year's prize of the Göttingen Handel Society will be awarded. With its central location, the Romantik Hotel Gebhards is the perfect starting point for a visit to the festival.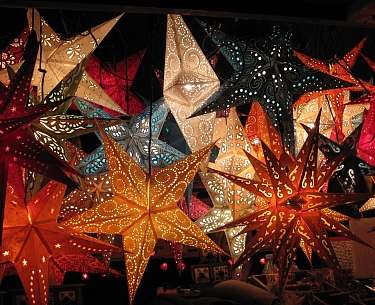 Göttingen christmas market
When the smell of mulled wine and gingerbread wafts through Göttingen, it's time to ring in the cosy season at Göttingen's Christmas Market. This year's Göttingen Christmas Market begins as early as the end of November and once again offers its guests all kinds of treats such as roasted almonds and beautiful handicrafts. The market is located in the middle of the city centre and while you stroll and enjoy, you can also admire illuminated sights such as the town hall and St. John's Church. After your visit, you will find a comfortable place to sleep and a first-class pampering programme in our Romantik Hotel Gebhards, even in wintry temperatures.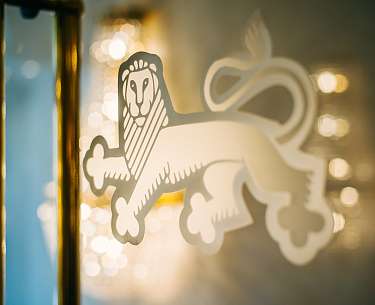 Vouchers for every occasion
With our gift vouchers you can give away wonderful experiences and unforgettable moments. Whether culinary excursions in the art nouveau ambience of the Georgia Augusta-Stuben, comfortable overnight stays on the level of a 4-star superior hotel or wellness in the in-house sauna - with a voucher for the Romantik Hotel Gebhards you are always on the right track. We are also happy to personalise your voucher with the appropriate name of the recipient and the giver as well as the occasion for a little individual touch.
Order our vouchers directly on site at Hotel Gebhards, by telephone on 0551/49680 or by e-mail to gebhards@romantikhotels.com. We appreciate your interest and look forward to receiving your order.
Things to know about your stay at Romantik Hotel Gebhards
Good to know
A lockable car park with garages is available for your car for a fee. There is also a high-speed e-charging point.
From Göttingen train station it is a 5-minute walk to the hotel.
The rooms are ready for occupancy from 3 pm.
If you arrive before 3 p.m., you are welcome to store your luggage safely with us until your room is ready for occupancy.
The rooms are available until 12.00 noon on the day of departure. For a chargeable late check-out, please inform us in advance.
We accept cash, EC card and various credit cards (American Express, Visa, Master Card/Eurocard) to settle your bill.
Your four-legged friends are welcome by appointment. We will gladly provide you with a dog basket. The fee is 15.00 euros per pet per night.
Pets welcome
Our lovable guard dog "Pepper" will put a smile on your face even on grey days. He is a permanent member of our hotel crew and is always a welcome contemporary, not only with children but also with adult guests. Pets and even larger dogs are allowed in our Romantik Hotel, so your loved ones don't have to stay at home. We also provide equipment for your four-legged friends, including a basket and feeding bowl. Pet lovers are also very welcome here!
Romantik Hotel Gebhards
Familie Albes
Goetheallee 22-23
Germany-37073 Göttingen
DE - Göttingen -

A7, exit "Göttingen"
Kasseler Landstraße direction city centre
Groner Straße in the direction of the city centre
behind the station turn left onto Berliner Straße
next right onto Goethestraß

Göttingen IC and ICE station
approx. 5 minutes walk

Kassel-Calden Airport: 62km
Paderborn-Lippstadt Airport: 132km
Hannover Airport: 140km
Frankfurt Airport: 239km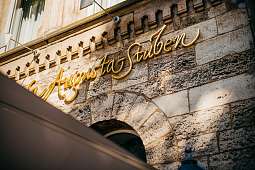 Georgia-Augusta-Stuben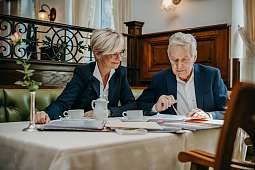 Family talks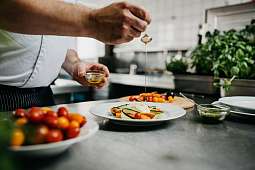 Kitchen creations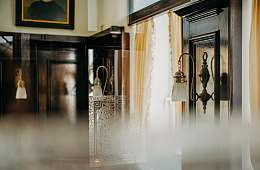 Detailed view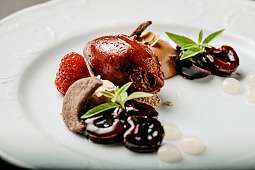 Dessert variation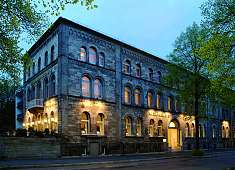 Exterior view at dawn